What's your most recent cooking accomplishment?
Is this thing on?
Does anyone have any favorite recipes for bread (rolls or loaves, I'm thinking French or maybe Challah) or pumpkin cookies?


I was just thinking I'd love to make cookies this year, but definitely don't want to get stuck eating all of the same kind of cookie! I'm sure all of you cooks out there have some fabulous family recipies too.

Anyone think this could work? Any other Christmas cookie sharing suggestions?
Would anyone be up for doing some sort of Christmas Cookie exchange this month? Where we mail out some of the cookies we've made to members who want to participate?


one layer crumbled up chocolate chip cookies
one layer chocolate pudding with half the recommended amount of milk, and cool whip
one layer sliced strawberries
one layer whole cookies.

My roommate and I want to replace the cookies with cubes of angel food cake in order to make it lower fat, but I think it might need a crunch in there somewhere. What do you think would work?
Someone recommended to me a recipe for a trifle of sorts.


Here's the gist.

Get yourself knocked up. 7+ months is the best point in fetus gestation, it'll ensure your brain is niiiice and tender. Then get yourself a whopping case of pneumonia that you are treating at home instead if in a cushy hospital bed with them bringing your food to you.

Attempt to make crockpot beef stroganoff.

The end.


I jest, I jest.

There's nothing particularly healthy or foodie about this. It's all about doing as little as possible with it turning out as edible as possible.

Ingredients:
~4 lb. pork loin roast
2 cans condensed creamy mushroom soup with garlic
1 can whole milk
1 envelope lipton's french onion powdered soup mix
1 tbsp finely minced fresh garlic
1 smallish finely diced yellow onion
1 small package of "fresh chopped mixed mushrooms" from the grocery, because you're lazy.
Fresh ground peppercorn mix (red, white, black) to taste
Kosher salt

Splash of burgundy.

Procedure:

Dump one can of soup in the bottom of crock. Place pork loin in.

Surround it with mushies, garlic and onion. Salt and pepper it, and then dump envelope of soup mix over it. Proceed to cover mushy/onion/garlic mix with other can of soup.

Add milk to soup cans, 1/2 full for each. Whisk the tasty bits off the sides and bottom of cans, and add to crock pot.

Cover, set to your preferred cooking time. (I use the four hour option on my crockpot.)

At two hour mark, flip the roast and whisk the gravy really well. Make sure that you get the bits of really condensed pepper/salt/soup powder bits in there, too. Make sure it's even, y'know? Baste the roast liberally, and re-cover for two more hours.

At the four hour mark, whisk in a splash of the burgundy. Not much. Not much at all, in fact. Just enough to give it a little zing, as is so often needed with pork. I suspect that you could probably sub burgundy for a nice white-wine dijon mustard with equally as pleasant a result.

Let bubble for another 1/2 hour.

Serve over egg noodles.

Nom.
So, things happen when I cook. Sometimes they're marvelous. Sometimes they're not. Tonight, thankfully, was not a "not" night.
I made these today, incredibly easy and they're fantastic! I use a 6-muffin pan, so they're a generous size. I also upped the blueberries to 1 cup, since they're the best bit. Approx 250 calories per muffin.
These muffins are not very sweet. If you prefer a sweeter muffin, increase the sugar to 1/2 cup, Some diabetics use fructose as the sweetner instead of sugar. I use regular size muffin pans (about 2 inch size) and fill the cups to the top to make good size muffins. Let them cool a few minutes in the pans for easier removal.
If you fill the cups only 2/3 full, this will probably make 8 muffins.
Ingredients
1 egg
1 tsp vanilla
1/4 tsp salt
1/4 cup oil
1 cup sourdough starter
1 cup whole wheat flour
1 tsp baking soda
1/4 cup sugar or fructose
1/2 cup blueberries
Method
Preheat oven to 425F.
Combine dry ingredients in small bowl. Stir in blueberries. Combine wet ingredients in medium bowl. Add dry ingredients to wet ones.
Mix quickly and spoon into 6 muffin cups (spray cups with Baker's Joy).
Bake at 425 for about 20 minutes.
(If you want to know how to make a sourdough starter,
look here
, it's simple as can be!)
Hello, I found this through AMA. First post n all :)
Current Mood:

happy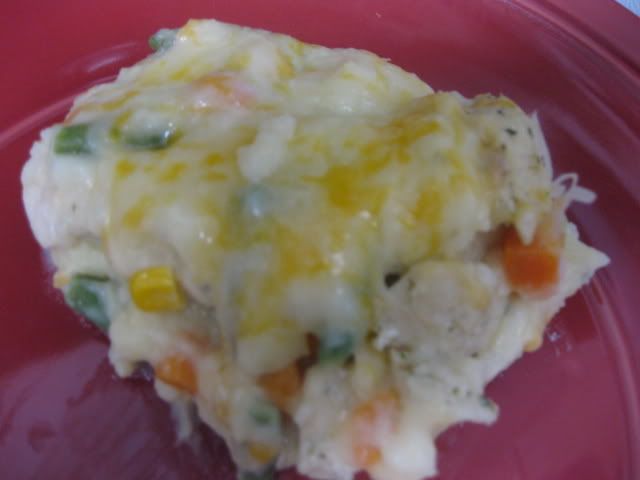 (
Recipe
Collapse
)
Crossposted to my journal, and
recession_food
This is a really simple, cheap, and comfort food type meal. It's really kid-friendly too, because most of the time they can't see the vegetables in it! I've seen a few recipes for it (though I can't remember the actual name, so the one I gave it will have to do for now) but I have changed some of it to work for me. The meal consists of these basic things: Mashed potatoes, boneless chicken, frozen veggies, and shredded cheese. Because you can ommit and customize this dish pretty easily, I'm not going to make a list of ingredients, and just basically write more or less how I prepare it.
Ramen Noodle Stir Fry
1 (3 ounce) package ramen noodles, cooked and drained
2 teaspoons oil, divided
1 large red bell pepper pepper, cubed
1 garlic clove, minced
Some ginger
1/2 cup reduced-sodium chicken broth (or 1/2 cup water with some of the seasoning packet mixed in)
2 teaspoons reduced-sodium soy sauce
Pork, carrots and red bell pepper
In a large nonstick skillet, stir-fry pork until cooked. Remove. Stir-fry veggies. Add the chicken broth, soy sauce, seasoning blend and noodles; toss gently.
This is a cheap and delicious spin on ramen noodles. It really works with whatever meat or veggies you have around the house. I just threw some ginger in there because I had a bit left over from my last stir fry. I love ginger!
Chocolate Buttermilk Cake
1.5 cups flour
1 cup sugar
1/2 cup unsweetened cocoa
1 tsp baking soda
1/2 tsp salt
1 cup buttermilk
1/2 cup vegetable oil
2 tsp vanilla
Preheat oven to 350 (325 if using glass pan). Butter and lightly flour two 8 inch rounds or one 9x13. Mix flour, sugar, cocoa, baking soda and salt in bowl. Add the rest, beating until smooth.
Spread in pan(s) and bake, about 20-25 min for small or 35-45 minutes for large. Test with toothpick. Cool before frosting.
I tried to make frosting as well, but it didn't work out. If anyone could share their favorite frosting recipe, let me know! For this cake, I stuck to Betty Crocker.
I finally did it! I made a cake that didn't taste like crap. I should have stuck to the easiest recipes in the first place. This one is from my Fannie Farmer book.
This one of those really lame H-E-B recipes that the sample ladies push. I don't usually make this sort of thing, but this is just ridiculously delicious.
Southwestern Chicken Skillet
1 bag (12 oz) Fully Cooked Chicken Breast or Thighs (M just grilled some of his chicken in the backyard and we used that.)
1 can (15 oz) corn kernels, drained
1 can (15 oz) black beans, drained
1 can (14.5 oz) Diced Tomatoes, Mexican Style or with Green Chilies
1 cup HEB Southwest Marinade (You may have to use less - I think we used half a cup because it can get too spicy)
1 packet (8.8 oz) Uncle Ben's Ready Rice
shredded Mexican-blend cheese
1. Combine all but chicken in large skillet and bring to low boil.
2. Add chicken. Cover skillet; reduce heat to Medium and simmer 10-15 minutes or until heated thoroughly
3. Top with cheese.