Cookie Sticks
1/2 cup vegetable oil
1/2 cup sugar
1/2 cup packed brown sugar
1 egg
1 tsp vanilla extract
1-1/2 cups all purpose flour
1/2 tsp baking soda
1/2 tsp salt
1 cup (6 oz) semisweet chocolate chips
Preheat oven to 375.
Combine oil, sugars, egg and vanilla in mixing bowl.
Combine the flour, baking soda and salt in separate bowl. Gradually add to oil mixture. Divide dough in half.
On a grease baking sheet, shape each portion into a 15 in. X 3 in. rectangle (give space for rectangle to expand). Press chocolate chips into dough.
Bake at 375 for 6-9 minutes. Let cool for five minutes and cut with serrated knife.
These stay very soft. The neighbors' kids gobbled them up and asked me to make them again. I feel so domestic. But these are
extremely
easy to make. One of the hardest parts of cookie making is the creaming of the sugars. Here, I just use oil. I think it took less than half an hour to make these.
If you zap a couple of them in the microwave for a few seconds and put a scoop of vanilla ice cream on top, you have a cute and delicious dessert.
These were particularly satisfying when I compared them to the the oatmeal animal crackers I made earlier in the day. I nearly broke my teeth on those. Blech. Cookie cutters are more trouble than they're worth.


I'll post pics of the results.
I posted this question on AMA before but I thought I'd ask the cooks specifically - what is your favorite cut out cookie recipe? I just got some cookie cutters and am itching to make something with them, but am not sure where to start. Any tips or recipes you can share with me would be most appreciated.
I posted this in my journal, but I thought I might post it here as well.
It's a red lentil soup (or stew? stoup?) It's not ~exotic~ or amazing or anything like that, just easy and simple.
(
Read more...
Collapse
)


3 ripe bananas
1 stick margarine/butter (I used margarine, so I can't say that butter will be the same, but I assume it would be OK.)
1 cup sugar
2 eggs
1 t. baking soda
dash of salt
2 t. vanilla
1 cup chopped nuts (These are optional. FTR, I used pecans.)
2 cups flour
2 tablespoons vegetable/canola oil (This keeps the muffins moist. If you like a drier banana bread/muffin, you can omit this.)

Mix all ingredients in no particular order. Spoon into muffin paper cups, and fill about 2/3 of the way full. For "over stuffed" muffins, you can fill them even more. Bake at 350 degrees for ~15 minutes. (Tbh, I didn't set a timer. I just took them out after they looked golden brown and had started to rise.) Yields about 18-20 muffins. I like mine "over stuffed" though. YMMV. Enjoy! :)
BANANA MUFFINS! :D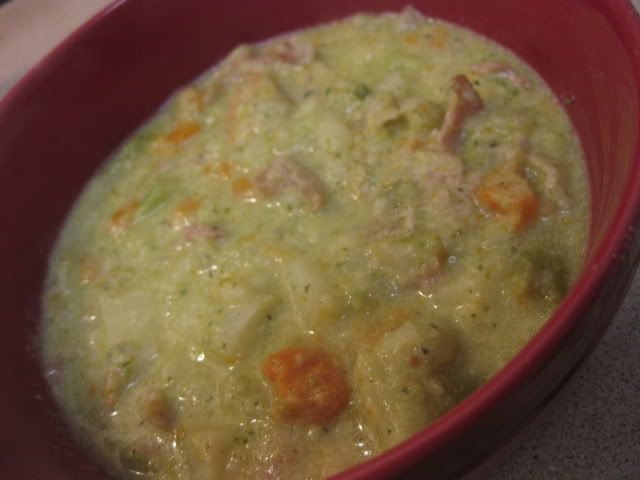 (
Ingredients, recipe and more pictures this way.
Collapse
)
(Cross posted to my LJ,
ama_cooks
, and
recession_food
)
It's extremely easy to make, and very cheap because even if you're running low on something, or don't have it at all, you can add and deduct things here and there and still make a pretty good soup.


You need a pound of ground meat,
1 whole medium Savoy cabbage finely chopped
1-2 cups each chopped carrots, onions and mushrooms
two tins diced and/or stewed tomatoes
rice (I use Basmati)
salt, pepper, some dill

brown the meat wih onions, add the cabbage, melt it down
add the spices, mushrooms, and carrots, cook covered until soft
add the tomatoes and cook on low for a few hours, stirring occasionally
serve on rice

If you feel hearty, crumble some cooked bacon into it. (I don't usually, not tremendously into bacon,)

This will last a few days in the fridge and freezes well. Like with stews, time is this dishes friend.
Tomorrow, I'm making Lazy Holubtsi (pronounced Hole-ap-chi), a staple when I was growing up. Holubtsi is cabbage rolls in Ukranian, and Lazy ones are everything for them, only in a pot. I add extra veggies to mine, and you can make a lighter version by using ground chicken or turkey, although pork is most common. ( I bet you could even use a veggie meat substitute)
Current Mood:

tired


3/4 cup butter or margarine
1 1/2 cup sugar
1 1/2 mashed bananas (about 3 medium bananas)
2 eggs, well beaten
1 teaspoon vanilla extract
2 cup sifted flour
1 teaspoon baking soda
3/4 teaspoon salt
1/2 cup buttermilk
3/4 cup chopped nuts (optional, and I used pecans, but walnuts would be good too)

Cream butter and sugar thoroughly. Blend in bananas, eggs, and vanilla. Sift flour, baking soda, and salt together. Add to banana mixture, alternating with buttermilk, mixing thoroughly after each addition. Add nuts; mix well. Pour batter into greased and floured* 9x5 inch loaf pan. Bake at 325 degrees for 1 hour and 15 minutes.**

* I used butter flavored Criso to grease the pan. For extra easy removal of the loaf, cut out a rectangle of parchment paper to fit on the bottom of the pan ON TOP of the grease and flour. I just didn't have any parchment paper :(

** I took my loaf out about 5 minutes early because I wanted a softer, moister bread. Not cooking it all the way makes it a little denser too, so if you like a fluffier bread, don't take it out too soon.
A good way to get rid of that buttermilk that's leftover from those pancakes:
grca
wanted and I think Kristen (
agingdragqueen
) asked for too:
2 cups flour
1 tablespoon sugar
1 teaspoon salt
1 teaspoon baking POWDER (not soda!)
Mix the dry ingredients, then add:
2 cups buttermilk
1 teaspoon baking soda dissolved in 1/4 cup water
1-2 eggs stirred in well
2-3 tablespoons melted butter
Stir until lumps are nearly gone. Use a non-stick pan/skilled/griddle to cook 'em and you don't have to grease or butter the pan. Cook on medium heat and don't flip until the batter is bubbling in the middle of the pancake.
Here's that family recipe that
Do you think this recipe would work the same with potato instead of pumpkin?